On this date 14 years ago Roy Miller III played in the US Army All American game.
U.S. Army Bowl: Roy Miller Earns Respect
ByTRACY PIERSON Jan 13, 2005
Roy Miller, a 6-foot-2, 300-pounder, from Killeen (TX) Shoemaker, has been a little sore the past few days and that's understandable considering he's been battling some of the nation's top offensive linemen.
Army Bowl practice, Jan 11, 2005 Photo by Glenn Nelson (Photo: Scout.com)
"I'm a little sore but I'll be alright," said Miller. "It's been competitive out there. We don't have a whole lot of defensive lineman to rotate with.
"Josh McNel and (Ndamukong) Suh are pretty tough linemen"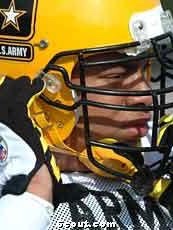 Miller was going at it so hard on Tuesday that his nose began to bleed. The coaches wanted him to leave but Roy wouldn't budge.
"I couldn't leave the field," Miller explained. "I needed to stay out there and compete. I'm trying to prepare myself for the game."
The U.S. Army All-American Bowl is played in San Antonio, Texas., at the Alamodome on Jan. 15, 2005, and broadcast nationally on NBC at 1 p.m., Eastern. Scout.com is a sponsor, the official selection partner and exclusive on-line partner of the U.S. Army All-American Bowl, as well as the associated U.S. Army Combine for underclassmen.
We loved what we saw from Miller this week, who was originally committed to Oklahoma. He's a massive defensive lineman that plays with a high level of intensity.
Miller is always working on his technique and he never gives up on a play. He's going to be a very good football player at the next level.

We asked Roy if he still plans on committing at the Alamo Dome on Saturday.

"I was actually going to have Tommie Harris pull the hat out of the bag for me." Miller said. "Tommie has been a friend of mine for a long time. He might have a conflict on Saturday, so I don't know if he'll be here.
"I have it narrowed down to Utah, Texas and UCLA. I grew up a Texas fan but Oklahoma started to grow on me when they started winning again."

Miller denies a leader. He had good visits to both Utah and UCLA but it's believed he'll announce for Texas on Saturday.