Almost a year ago from today the sports world shut down. The NBA has just announced that they were postponing the season, COVID-19 all the sudden became real to a lot of people. It is hard to put in words how much the idea of sporting events makes us feel happy, festive, normal. Even though I did not watch basketball at the time, I immediately missed it. "The Oklahoma Thunder are the greatest or The Chicago Bulls" all the sudden these conversations stopped. There was no live sports to watch on TV and the world became hungry for classic entertainment.
On this date a year ago the world re-watched the Texas Longhorns win the national championship of 2005. Awkwardly this time it seemed like the entire world was watching the game. Friends and fans were texting, calling, and messaging as if the game were being played in real time!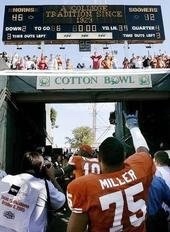 This was an amazing experience. My memory of the actual national championship in 2005 feels like a blur, I don't remember too much about after the game I remember walking through a Texas lobby at our hotel near Hollywood, grabbing a beer (at 19) and going to the room. I sat on the edge of my bed watching the news in disbelief that we have just beaten what the media called the greatest college football team of all time. This time around I was able to share the experience with many people. We exchanged stories of high school and college for a moment during the pandemic we were able to have sports. The national championship game once again the Texas Longhorns have captivated the sports world with the same game.