Vince Young has always been one of my most favorite football players. He is a selfless leader, my mentor and features the best talent of this generation. This post is meant to appreciate the greatness of my idol who was incidentally inducted into the college football hall of this week.
I remember watching the Longhorns on TV during a pre-game meal during an official visit to Normal, Oklahoma. Watching Vince Young (VY) run for a 20 yard first down against Kansas, I started thinking – "I want to be in his team". His awareness on field and ability to get through defenders always impressed me. This prompted me to re-think of my time in college. I soon decided to play this kind of QB with the Longhorns and am confident it was the best decision I ever made.
This was in 2004 when Rose Bowl won against Michigan. The world was excited to see what the QB could do in 2005. By the time I signed with the longhorns in 2005, the championship caliber team had already been built. The team's confidence was evident. Terms developed by Coach Brown such as "Keep aim" and "don't eat the cheese" kept us focused on the big game. We are accelerated more when Biggie Smalls song "I'm going going back back to Cali Cali" was sounded on the practice field. I was blown away that these men had their eyes set towards the second appearance in the rose bowl, this time for the National championship.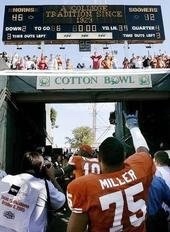 It struck me that our class featured players such as Colt McCoy, Aaron Lewis, and Jamaal Charles. Myself and the rest of the team quickly realized that we had to earn the respect of these men through hard work and sacrifice. We also realized that VY was the catalyst to the program. The infectious QB had a way of corralling the guys; his presence, confidence, and swagger created the heartbeat. We had extra workouts together, hung out together and looked out for each other, and whether freshmen, walk-on, or the starting player on the team VY made you feel the same. The entire team with some of the best talent in the world showed this attitude.
I must admit that I have never been part of team so prepared as the 2005 team lead by VY in my 13 years of elite competition. When we stepped on the field there was no doubt that we would win even against USC.
VY put his teammates first and by doing so, he elevated those around him! Every moment got a special place in our hearts where we truly cared about each other. We were lucky to have number 10 that is VY leading us at QB.
I am happy he will go down as one of the best ever! Congratulations to my brother! Hook Em'!