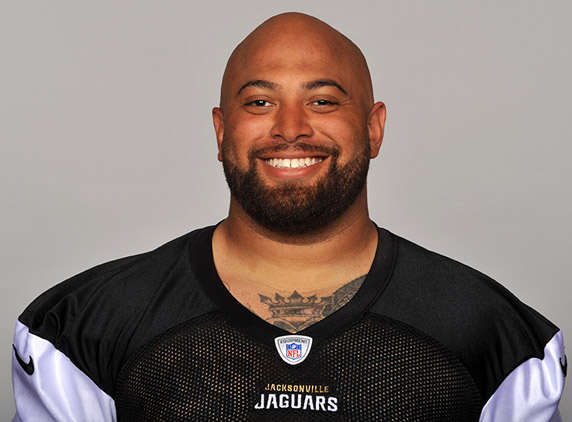 Roy Miller is a former American football defensive tackle player who had appeared in 9 seasons of the National Football League (NFL). Being a native of Killeen, Texas; Miller made his money by taking on double teams and reading blocking schemes in the NFL. He is best known by NFL coaches for defeating the infamous "bump block" blocking schemes from offensive strategists. Miller made progress by deducting schemes, studying playbooks, and making calculated risks based on body language, verbal and non-verbal cues.
"I can look at the offensive line look at how they are learning where their eyes are gazing, I can hear the Qb and his calls, sometimes it is a dummy call, but sometimes it is to alert the offense which way to pass block. This happens within 15 seconds. I trust my calculations and I take the highest educated guess I can to make plays that help the team"
Being a University of Texas' alumni, Miller has been an All-Conference player, Big 12 Conference champion, Big Twelve Player of the Week, a National Football champion, and The Fiesta Bowl's most valuable player of defense. Roy Miller has played for the Tampa Bay Buccaneers, Jacksonville Jaguars, and Kansas City Chefs. His popularity is due to community service in the Killeen/Ft. Hood, Tx as the current president and co-founder of The Accumulative Advantage Foundation (www.kidsadvantage.org). As his active time as an NFL player has come to an end, Miller is currently starting a new chapter in his life. Roy Miller is exploring the business territory after a long career in the National Football League while attempting to be the best father he can be.
Childhood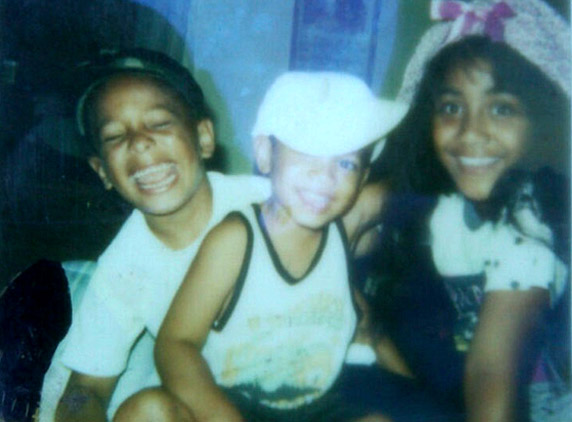 Roy Miller was born in Fort Lewis, Washington July 9, 1987. His mother Ruta Miller, maiden name of Alaalatoa is from Savaii, American Samoa. She has 11 brothers and sisters. Miller's father Roy Miller II is from Kansas City, Missouri, and is the only son of Carrie and Roy Miller Sr. Miller's father served as a soldier in the U.S Army for nearly 20 years. His family lived in Tacoma, Washington from 1987-1989, Fort Eustis, Virginia from 1989–1996 before moving to Killeen, Texas. Miller was mentored by Tommie Harris Jr., who was a former All-American/Pro Bowl football defensive tackle. Tommie Harris Jr., played eight seasons in the National Football League (NFL) and at one point in his career he was recognized as one of the best NFL players regardless of position. Miller notes that he was always interested in sports and grew up most of his life in Texas where football was the way of life.
Miller credits much of his success to having friends such as Tommie in his life. Miller credits his toughness and resiliency to his parents, who are still married and have worked their way from poverty to enjoying a flourishing life of golf. Miller has a brother William Miller and a sister Maria Lloyd who he adores. He has three nieces by his sister Maria Lloyd.
Interesting facts: Roy Miller played football with Anthony Bethea in Pop-Warner which is a nonprofit organization that conducts football events for youth aged 5 to 16 years across the United States.
HIGH SCHOOL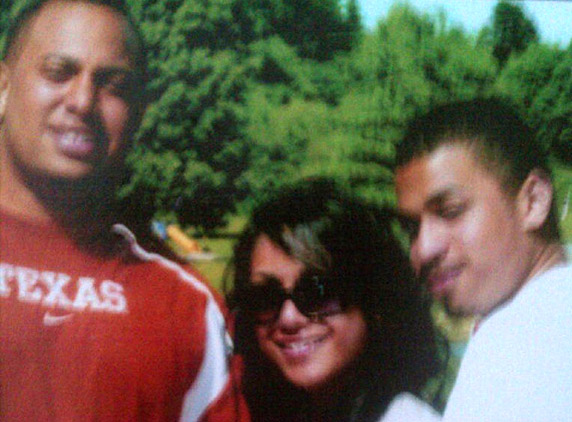 Roy Miller passed his early education at (Killeen) Shoemaker High School which is where his stardom in football began. In 2003 Miller was named sophomore of the year of the 17-4A district and honorable mention all-state for 4A Texas high school football. Following his sophomore debut, he became an all-state, all-area, and most valuable player of the district for defense. In high school, Miller played against legends such as Jordan Shipley, Dominique Zeigler, Juaquin Iglesias, and Gerald Keith McCoy Jr. Roy Miller was coached by Ken Gray at Killeen Shoemaker High School. Miller also threw the shot-put and discuss at Shoemaker. He soon became an all-area and all-state powerlifter.
Miller broke his foot in his senior year, while he was on his way to a national power-lifting championship. Yet he participated in 670pound deadlift, 460-pound bench press, and 600-pound squat competing in the super heavyweight division (over 275 lbs). Miller maintained a 3.0 GPA where he left school undecided about which field to further his education. Miller received his first scholarship offer from the University of Baylor.
Miller tried to get admitted but coaches at Baylor University asked Miller to wait because he could get many more scholarship offers. Miller was recruited by many schools including the University of Oklahoma where he got enrolled initially to further his education and play football. He was a part of this College football team which turned out to be the most dominant college team winning several national championships and played in the big game year over year.
At this time, Miller used to watch the Texas Longhorns from a distance as he was already committed to the Oklahoma team. Yet he had his heart set deeply on the Longhorns, who were right down the road. His desire to play for the Longhorns came unexpectedly. The Oklahoma team made an official visit to Texas. Miller wanted his parents to meet the entire coaching staff of Oklahoma. But they weren't greeted well and Oklahoma's staff ignored them. Miller confronted Bobby Jack; the coach of Oklahoma University. But again the Coach replied to Miller negatively stating they would "win with or without him".
Miller decided that Oklahoma had other prospects on their minds. He left the University and visited the University of Utah where his cousin Bryce Scanlon played defensive tackle under Urban Myer. At the US Army All American game, Miller chose the Texas Longhorns. The Texas Longhorns immediately took advantage of this. Coach Mack Brown and Gene Chizik made Miller the top priority of their recruiting class. In fact Coach, Mack Brown visited Killeen Shoemaker High School to visit Miller and greeted every single teacher in the building. Considering the massive popularity of football in Texas, Coach Mack Brown was regarded with more importance than even the Governor of Texas.
Miller came in second in voting for the US Army All American game map tallying 3 sacks and a fumble recovery.
Miller was ranked in high school:
Rivals.com 34th ranked overall player 5th in position 9th best player in the state of Texas
Scout.com 29th ranked overall player 5th in position 4th best player in the state of Texas
Coach Ken Gray (Miller's high school head coach) on Miller in high school:
"From watching him in San Antonio, he seems like a player that gives it his all every play… Gray: He made us better offensively and defensively because starting last spring when he felt like he had an opportunity to play at (the next) level, he just stepped it up. We had a little visit and talked about taking plays off, just going 100 percent every play and he did that in the spring. Our offense knew that Roy was coming 100 percent so they had to step it up, so he made us better on both sides of the ball just by going 110 percent every play and I think every coach that came in here said, 'Boy, his motor really runs full speed' and it wasn't a show because it was every play, every practice, in offseason. He just decided 'I'm going to go 100 percent every play'. Matter of fact, when he was down at that All-Star game in San Antonio, he'd call me and say, 'Coach, I'm blowin' 'em up,' and I'd say, 'You'd better save some for Saturday' and he'd say, 'Coach, with these guys you've got to bring it every play and that's what he did all week long."
COLLEGE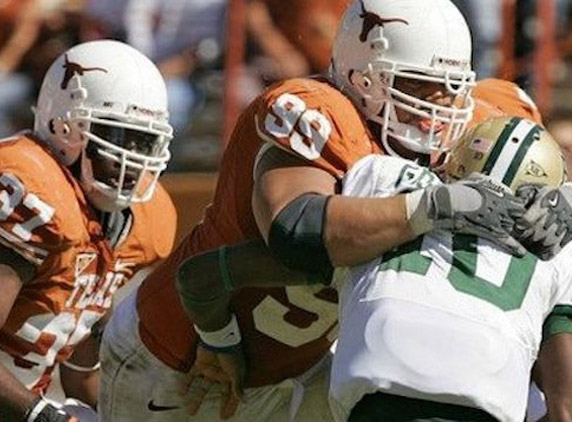 Roy Miller attended the University of Texas at Austin from 2005-2008. He chooses the Longhorns over UCLA, University of Utah, University of Oklahoma, and Texas. His skills in playing football as well as his fame rose massively during this period. After Miller made a tackle for loss on Lendale White in the national championship of his freshman year, he was given the highest rank of defensive linemen in the NFL. Miller decided in his 3rd year of college to pursue a Bachelors's Degree in Corporate Communication. Miller credits his passion in education to a class on sports marketing that he had failed in college. It was an easier class and a prerequisite elective. Miller was a member of UT's Athletics Director's Honor Roll, was very active in UT's community service program and graduated with a degree in corporate communications.  He was one of the strongest members of the University's football squad and played defensive squad as well as short-yardage fullback as a senior.
University of Texas recruiting class of 2005:
Jamaal Charles (Kansas City Chiefs)
Henry Melton (Chicago Bears)
Chris Brown
Jermichael Finley (Green Bay Packers)
Aaron Lewis
Michael Houston
Rodderick Muckelroy (Cincinnati Bengals)
Jerrell Wilkerson
Chris Hall
Charlie Tanner (NFL free agent)
Colt McCoy (Washington Redskins)
Trevor Gerland
Senior (2008)
He started all 13 games at defensive tackle. Miller tabbed first-team All-Big 12 by the league[apos]s coaches and second-team All-Big 12 by The Associated Press, Austin American-Statesman, Dallas Morning News, Fort Worth Star-Telegram, Kansas City Star, San Antonio Express-News and Waco Tribune-Herald … named the team[apos]s Most Productive Defensive Performer three times … helped UT rank first in the Big 12 in scoring defense (18.8 ppg/18th NCAA), total defense (342.9 ypg), rushing defense (83.5 ypg/third NCAA) and second in pass efficiency defense (124.2 rating) … logged 49 tackles, 11 TFL, 5.5 sacks, 28 pressures, four PBD and a fumble recovery … notched three TFL against FAU … posted five tackles and two TFL while adding four pressures at UTEP … recorded two tackles and a sack versus Rice … added two tackles against Arkansas … tallied eight tackles, a TFL, two PBD, three pressures and a fumble recovery at Colorado … was named Big 12 Defensive Player of the Week due to his efforts … posted three tackles and a pressure against No. 1 Oklahoma … logged three tackles and a TFL versus No. 11 Missouri … awarded the Hard Hat award for his hit on the first play from scrimmage … notched two tackles and a pressure in a victory against No. 7 Oklahoma State … added five tackles, a sack and four pressures at No. 6 Texas Tech … recorded four tackles, two sacks and two pressures against Baylor … logged four tackles, a half sack, two TFL, two pressures and a PBD at Kansas … posted four tackles, three pressures and a PBD against Texas A&M … added three tackles, two pressures and a sack in UT[apos]s 24-21 victory over No. 10 Ohio State in the Fiesta Bowl to earn Defensive MVP honors.
Junior (2007)
Appeared in all 13 games at defensive tackle … tabbed honorable mention All-Big 12 by the league[apos]s coaches. He earned UT[apos]s Joseph W. Moore Award for Tenacity … helped UT allow just 93.4 rushing yards per game (sixth NCAA) … tallied 40 tackles, eight TFL, a sack, seven pressures, a PBD and a forced fumble. Miller notched three tackles and a TFL against Arkansas State … had three tackles, a TFL and two pressures versus No. 19 TCU … recorded five tackles, two TFL, a sack, a forced fumble and two pressures at UCF … posted four tackles and a TFL against Rice … recorded three tackles versus Kansas State … tallied three stops versus No. 10 Oklahoma … posted four tackles, a PBD and two pressures at Iowa State … recorded three tackles at Baylor … notched five tackles, including a TFL, against Nebraska … posted two tackles, including a TFL, at Oklahoma State … added two tackles at Texas. Roy Miller notched three tackles, a TFL and a pressure against No. 12 Arizona State in the Holiday Bowl.
Sophomore (2006)
Played in all 13 games, starting the final six … posted 26 tackles, four TFL, two sacks and two pressures in his six starts … helped UT give up only 61.2 yards rushing per game (third NCAA), 297.4 yards per game (22nd NCAA) and 18.3 points per game (26th NCAA) … the 61.2 yards rushing per game ranks second on UT[apos]s all-time list … posted 39 tackles, 3.5 sacks, six TFL and six pressures on the season … recorded a tackle and had one pressure against North Texas … added a tackle and a pressure versus No. 1 Ohio State … posted four tackles at Rice … notched a tackle against Iowa State … posted three tackles, a sack and a pressure versus No. 14 Oklahoma … added a sack and a pressure against Baylor … had three tackles, a half sack and a pressure at No. 17 Nebraska … notched four tackles, including two TFL and a sack, at Texas Tech …established a career high with six tackles and a pressure at Kansas State … recorded five tackles, including a TFL, against Texas. He notched a career-high 10 tackles in the Alamo Bowl versus Iowa.
Freshman (2005)
Appeared in 10 games at defensive tackle mostly as a reserve player sitting behind several all American players who eventually all played in the national football league … recorded 10 tackles, three pressures and a PBD … tallied one tackle against La.-Lafayette and Rice … added one tackle and a pressure at Missouri … tallied one tackle against Texas Tech … posted one tackle and a pressure at Baylor … had a tackle and a PBD versus Kansas … posted a season-high two tackles and a pressure at Texas and added one tackle in the Big 12 Championship and in Texas[apos] 41-38 victory over USC for the National Championship.
CAREER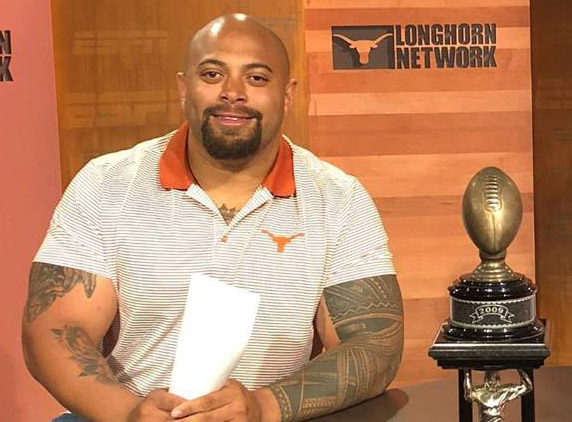 Roy Miller Played for the Tampa Bay Buccaneers, Jacksonville Jaguars, and Kansas City Chiefs for 9 NFL seasons after being drafted in 2009. He has now retired from football and is operating the Accumulative Advantage Foundation which is a non-profit organization. The objective of the Accumulative Advantage Foundation is to financially support the families of ex-soldiers as well as soldiers who are currently serving in the U.S. Army.
Personal Life
Roy Miller has 5 kids out of which 4 which are his own. Miller is the president of his foundation The Accumulative Advantage Foundation which was created in hopes of offering life changing opportunities at no cost to military dependents, at risk youth, and children in poverty stricken communities. Furthermore Miller wanted to celebrate our soldiers who have committed their lives to serve others. Miller has strong ties to his NFL community with multiple NFL players on our advisory board having veteran experience in the league.
Miller shares a similar experience as his father was deployed to Iraq. Miller's can understand what it meant going to school hoping not to get called down to the counselors' office as several class-mates of Miller were notified at school that their fathers paid the ultimate sacrifice.
Miller looks for any way to mentor children as they deal with many other issues associated with military life. Children relocate often and are forced to create new identities wherever they move. Trying to fit in is essential to adolescent well-being and can be a leading contributor to many troubles associated with our youth. With many of our soldiers living below the poverty line, it is essential that we offer free experiences to their families.  Roy Miller is engaged to Dr. Rakiya Faulkner and plans to get married after a year (2022).
MY KIDS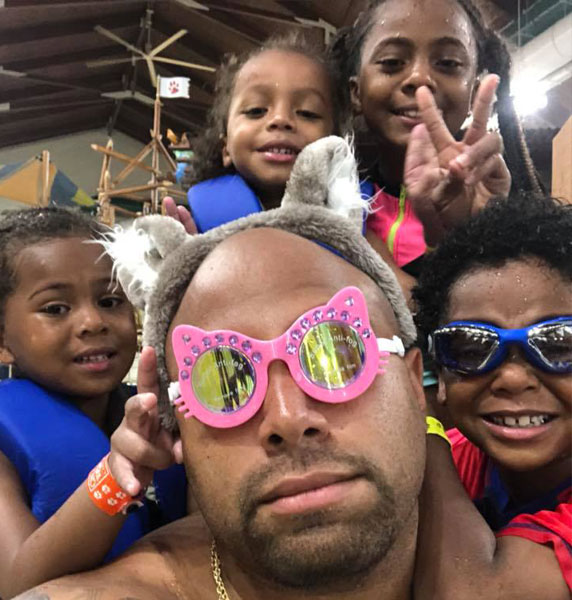 Roy Miller has 4 kids:
1. Amiyah Miller
2. Roy Miller IV
3. Greenlee Miller
4. Roman Miller
Roy Miller and wife Dr. Rakiya Vonita Faulkner Miller.
June 6th 2022